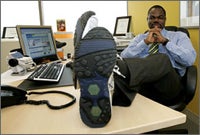 I spent some time yesterday shopping for new sneakers, though I didn't find any quite to my liking. Perhaps because none of them had embedded GPS units, like these so-called Quantum Satellite Technology shoes.
Why put GPS in sneakers? Well, so you can be found of course. Mainly for the purposes of safety. The 2″ x 3″ chip located in the sole of the shoe can be activated by pressing a discreet button near the shoelaces, which alerts a monitoring service.
None of this is for the frugal; the shoes themselves, available in four different styles, cost $350, and the monitoring service costs around $20 a month. And the privacy-conscious will also want to be aware that, armed with a password, law enforcement can also track your location. The limited production run is 1000, with the designer, Isaac Daniel (pictured), reporting that 750 have already been sold, so if you're keen to have yourself on the grid at all times, act fast. Unfortunately, their sizes only go up to 12, leaving this size 13 stuck with his non-technologically-savvy footwear.
[via CrunchGear ]