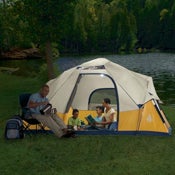 I don't do that much real camping, tending instead to the bastardized version that my hardcore woodsy friends call derisively "car camping," but I've spent my fair share of nights in a tent. And while I often pack an electric lantern so I can read for a little while before falling asleep to the sound of howling coyotes and mysterious snuffling noises, the batteries invariably run out pretty soon.
But if I got me one of these Woods Solar Powered EZ-Tent™ with LED Lights, I'd be all set. Basically, it has a solar-panel that can be used not only to power built-in LED lights, but can also be used to charge batteries for all your technological devices. That you take with you into the woods. Right.
Still, why not? What have you got to lose? It's solar-powered, so it's environmental friendly. In fact, if my apartment lease doesn't go through, I may find myself living in one of these things before long.
[via Gizmodo ]