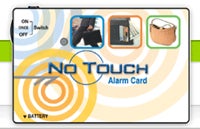 Nobody's ever tried to pickpocket me, thank god. I wouldn't want to have to bust out my mad kung-fu skills and hurt them, after all. But there must be a solution for mere mortals who are not legally obligated to register their fists as lethal weapons. Perhaps the No Touch Alarm Card can help those less fortunate.
This credit card-sized device has a built-in sensor that reacts to light by emitting a high-pitched siren. So it's fine in your bag, or wallet, stowed with your valuables, but should even a single beam of light find its way to the alarm card, it'll tell everybody that you are nothing more than a dirty thief. The card can be set to On, Off, or "Once" which will emit the siren for only two seconds instead of on a continuous loop.
Of course, I have no idea what will happen should someone try to pickpocket you at night —you may have to find your own solution for that (I recommend kung-fu lessons). $15 and the Alarm Card is annoyingly yours.
[via Red Ferret ]