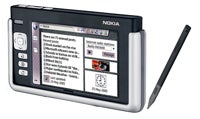 Cellphone maker Nokia is taking an alternative tack with the forthcoming second version of their Internet browsing device, the 770. The original version was a Wi-Fi enabled tablet designed specifically for web-browsing; it relied entirely on Wi-Fi for connectivity, eschewing any sort of cellular radio technology. The 770 runs on a Linux-based tablet OS.
The next version to debut will add a new feature: voice over IP. Nokia has chosen to partner with Google to provide this functionality, via the search company's Google Talk platform. While Google Talk does allow VoIP, it does not feature interoperability with other popular VoIP services, such as Skype, and it doesn't allow communication with conventional telephone systems. Google Talk also supports instant messaging via the open XMPP protocol (used by open source IM system Jabber), and it can connect with other services that use that protocol.
The addition of VoIP is a useful one for the 770, but with the lack of cellular access, it's unlikely the device will expand beyond its current niche of early adopters. Still, it's nice to see an innovative-looking portable device not tied to Microsoft's Windows Mobile monolith. The new version of the 770 will cost about $390.
[via Slashdot ]