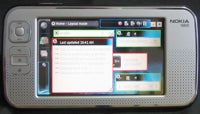 We mentioned the Nokia 770 Internet Tablet way back when; I got a chance to see one up close not long ago, as a friend of mine owns one. It's a pretty slick little machine, though it did have its fair share of shortcomings.
Nokia hopes to fix that with the next iteration in the line, the N800. Ars Technica's Eric Bangeman took an in-depth look at the N800 to see not only how it stacked up to its predecessor, but also to see how it lived up to its name. How did it fare?
That gets to the heart of what the N800 is: an Internet Tablet designed to keep you connected to your online world wherever there is a WiFi connection available. And it does remarkably well at that. I've used it on several evenings to surf the web while watching TV in the living room and it's perfect for that. I think the best way to describe the feel of using the N800 is that it's like using a very small computer rather than a PDA or smartphone. I attribute that experience to the high-resolution display and applications included with the tablet, especially Opera and Flash.

If you don't have an 802.11b/g connection nearby, you can still watch videos, listen to music, play games, read PDFs, and more, but the N800 really shines when you're kicking back and surfing the web.
A version of Skype is supposedly on its way for mid-year; if anything, that very well might be the killer app for the N800. The Internet Tablet certainly isn't for everyone—its lack of cell phone capability will relegate it to second best for many people—but it's a niche device with a promising future.