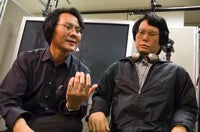 No, it's not yet another unncessary sequel to the Eddie Murphy/Jerry Lewis movies of yore. Instead, Hiroshi Ishiguro, a senior researcher at ATR Intelligent Robotics and Communication Laboratories, found himself so overwhelmed by responsibilities that he created an android double of himself to carry out mundane tasks like, oh, lecture to his students at Osaka University.
Geminoid HI-1, as the professor has lovingly named his doppelgänger, not only allows Ishiguro to broadcast his own voice through an internal speaker (and lip syncs to match), but also performs "micromovements" like breathing, or tapping its foot restlessly. While they help enhance the verisimilitude, the effect, as WIred puts it, "is more like a man wearing a rubber mask." Ishiguro says the attempt is to create "tele-interaction," with the people hopefully being able to feel Ishiguro's "presence" through interacting with the android.
Frankly, I had some professor in college who could have been improved by being replaced with robot doubles. At least they would have been interesting .
[via Slashdot ]