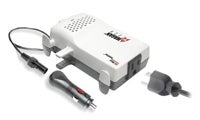 DC inverters are truly useful pieces of equipment for long car and airline rides; I used one in one of my cross-country trips and it was a godsend. I won't go into the history of the direct current vs. alternating current war (other than to say: "screw you, Edison!"), but your house runs on alternating current (AC) while most appliances run on direct current (DC), thus the need for those bulky power adapters.
A DC inverter basically undoes the process of those power adapters, allowing your gadgets to be powered by sweet, sweet direct current, which is the kind of power generated by your car's power port/cigarette lighter and most airlines. This 120 Watt Auto-Airline Inverter will let you plug your gizmo into a standard power outlet, and will itself plug into a car or plane power port, meaning you no longer have to rely on your laptop's limited battery.
It'll run you $60, but it measures a fairly compact 5 1/2″ x 4″ x 1 3/4″; no word on weight though, and inverters can be kind of heavy.
[via Cooolest Gadgets ]