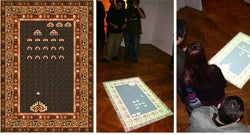 Here's a hack for you. By day, a perfectly innocent looking Armenian carpet. By night , a playable version of Space Invaders. Using an overhead projector hooked up to a PS2, Space Invaders is projected onto the rug, where you can blast away aliens until your heart is content.
The piece was meant as a sort of interactive art installation; the man responsible is Poland-born Janek Simon. The meaning behind the art?
From its beginnings this classic game dealt with political problems. The initial human figures where swiftly transformed into pixilated, triangular shaped, medusa-like, skull-headed extraterrestrials, so as to hide the body counts and bloody scores. Bible-belt communities felt terribly insecure after the tender minds of their sons and daughters got hooked on the game, thus loosing their appetite for Sunday school faith games. While coins got inserted, economical effects where to follow, Japan was suffering a countrywide coin shortage and kids in the States where busting the cash machines for small change. Cultural upsurge was to follow.
I have nothing to say to that.
[via Kotaku ]