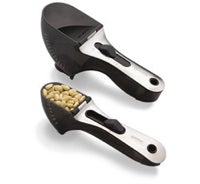 It's probably come to your attention that I can be kind of a cooking gadget fiend. While I don't spend that much time in the kitchen, I mean to start cooking for myself more. The best way of enticing me into it? Gadgets . Though, let's be honest: gadgets are pretty much the best way of enticing me into almost anything .
For instance, I'm having a hard time resisting these adjustable measuring cups. No more rooting around to find the tablespoon measure—just slide the rubber knob and you're set. Better yet, it means fewer things to wash , which has me pretty sold from the get go. The cups have magnets in them too, making them easier to keep track of: just stick 'em on the fridge.
For $33, you get the pair: the small one handles measurements up to 2 tablespoons in both metric and imperial units; the larger takes sizes up to half a cup.
[via SCI FI Tech ]