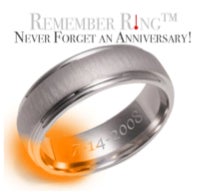 If there's one thing that I've learned, marriage is all about commitment. Honesty. Pain . Whoops. Anyway, are you one of those guys who's constantly forgetting your spouse's birthday/anniversary/day of your first date? The Remember Ring™ is here to save you from that awful annual fate. It reminds you that the day has arrived by heating up to 120°F every hour, on the hour, for 24 hours. That's just hot enough to, as the product text reads, cause "discomfort" while remaining shy of searing your finger . Got more than one thing to remember? Wear two, three, five, or ten .
"I got two of 'em." says Jon Harshmen, "Well, I got one actually-my wife got me the other one." Holding up his hands to show both rings he says, "Anniversary and Birthday, baby. It's like a hand gun. Better to have it and not need it, than need it and not have it."
Oh, if I had a nickel for every time I've heard a wedding ring compared to a
hand gun
.
The coolest thing about this ring of death is the micro thermopile it uses to convert heat from your hand into electricity, thus keeping the timer inside running indefinitely. You give them the date of your anniversary when you order, and then you never worry again. Until your finger starts burning and you can't remember why.
I also happened to notice that this product is only being targeted at men. What if you wanted to get one for your wife to commemorate your special day, like when the Red Sox finally won the World Series, huh?
[via Gizmodo ]