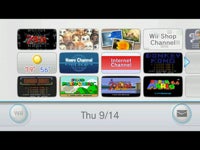 The great social experiment of the Nintendo Wii launches on Sunday, but it sounds as though new Wii-owners may need to wait a while before truly engaging in some of the multiplayer features of their new consoles. Of course, they'll be able to play locally with up to four players, but if they want to challenge their geographically remote friends, they'll have to wait until next year.
Many of the Wii's online features are not available at launch. The weather channel will not appear until December 20th, and the news channel (featuring AP content) is due to debut on January 17th. Perhaps most distressingly, the Wii's version of the Opera browser is still shrouded in mystery, Nintendo only saying that "more information about the availability of the browser will be released in the coming weeks."
Finally, some good news. Twelve Virtual Console games will be available for purchase on launch day, though I'd expect that Nintendo's servers will be ravaged . You might want to wait a few days. Pricing has also been set for Genesis and Turbo-Grafx games at 800 points ($8) and 600 points ($6) respectively.
[via Joystiq ]