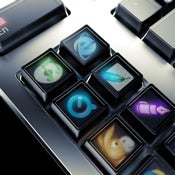 You might remember Art. Lebedev studios as the designers behind the Optimus mini three and the Upravlator, but if you've followed this Russian-based studio, you know that their Holy Grail was a full 113-key keyboard with full color OLED displays for every key, making it easy to change the look of a key based on the current task. A great idea, but one that seems to have drifted more and more into the realm of vaporware.
First, the 10 launcher keys (pictured) were dropped, turning the keyboard into a standard 103-key device. Fine. Then, it was announced that the key displays would be black and white—not grayscale, mind you, but black and white. Now, Art. Lebedev has released price and availability information on the gadget and, well, the news ain't great for those of you whose salivary glands have been working overtime.
The keyboard will be available for pre-order on December 12th at a reputed price of $1200 which, for those keeping score at home, is around $1150 more than I'd like to spend on a keyboard. Perhaps some day—some glorious sun-dappled afternoon in 2059—this dream will be realized. But it doesn't seem like it will be next year. They're only taking 103 pre-orders, so if you're looking to plunk down your $1200, act fas—oh, who are we kidding?
[via Gizmodo ]