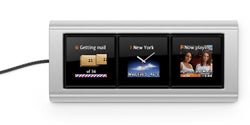 A while back—well before Gadgetbox's day—there came news of an amazing product concept: the Optimus OLED Keyboard. The dream of this peripheral was a full-featured keyboard in which every key contained a tiny color organic light-emitting diode (OLED) display that could be configured to display whatever your little heart desired.
But the concept was just that, a concept. Until last year, when Optimus announced that it would be shipping a small USB " mini three " keypad that consisted of three of the OLED keys that could be assigned any function and picture you want. The price for this marvel of technology? $100.
Yowzers.
Now, word comes that Optimus has decided to change vendors for their manufacturing process, and so the mini three, which was supposed to appear next week, has been delayed to August, along with a price increase of $120, with it jumping to $160 on August 1st. What does this mean for the full-size Optimus OLED Keyboard? Well, I'm guessing it'll be the most expensive keyboard you've ever desperately wanted to buy.
[via Engadget ]