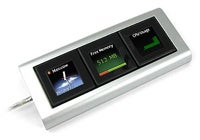 What a pleasant surprise. We've reported on the Optimus mini three keypad before, but to refresh your memory, we'll tell you that it's a three-button USB device, where each button contains an OLED display that can feature an image or a full motion animation. Our last post said that the item had been delayed to August, and, well lookee there, it's August.
Though the mini three has been delayed again, until September, there is proof that the device actually exists. ThinkGeek, who will be selling the mini three, has received a working final production sample; they've got pictures and everything on their site, enough to make your average techno-geek drool with envy.
Let's get one thing out of the way. We have this Optimus Mini Three Keyboard in our hot little hands, it is very real and very cool. You want one, trust us. And that's not the salesman in us talking… this is the die-hard geeky friend who wants to see you get some amazing tech that no one you know will have.
Now the only thing holding me back is spending $160 on a glorified launcher. Still, quite cool. Perhaps there's still hope for the full size
Optimus OLED Keyboard.
[via Gizmodo ]