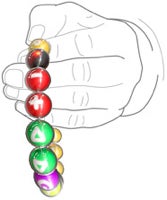 Television can be a religious experience, and I'm not talking just the constant berating we receive from televangelists. Russian designer Dima Komissarov brings the two together with his concept Remobeads, a rosary-like string of electronic pearls that can be used to change channels, merely by cycling the beads through your hand.
The practicality of this device is probably limited—I know my parents still use over-the-air reception, but the number of channels that most watchers have would yield huge strings of these pearls; searching for the one channel you want would probably be more like the curse-inducing experience of untangling strands of Christmas tree lights than the religious experience of prayer.
Still, it's an interesting idea, and a realm in which there's still some room for innovation. The TV remote hasn't changed that much since the innovation of wireless; is it time for a design that accommodates modern television, or is the remote a tried-and-true device?
[via Gearlog ]