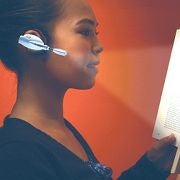 I'm an inveterate reader; have been since I was a mere tot. It runs in my family, too. You'll be hard-pressed at any family gathering not to find dozens of books stashed away in purses, backpacks, or whatever convenient nook happens to be about.
Reading under the covers after lights out is a time-honored family tradition, but despite marvelous advances in flashlight technology, it's annoying to hold a flashlight with one hand and a book with another. I have a book light that clips to the page, but it takes like four D batteries—it's kind of hefty .
So you can see why I might like the Over-Ear Book Light. Powered by a single AAA battery, it conveniently perches atop your ear like a Bluetooth headset, providing a narrow beam of light that not only clearly illuminates that latest thriller, but also doesn't wake up whoever might be sharing that bed with you, whether it be spouse or stuffed animal.
Best of all, it's just $24.95. One battery should give about 25 hours of light, with the LED lasting a good 100,000 hours. Pretty good.
[via Ubergizmo ]