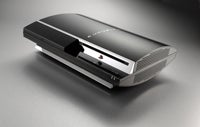 The gamers of Europe have been busy rejoicing for the arrival of the PlayStation 3, while the law enforcement of Europe has no doubt been busy preparing for an onslaught of shootings, robberies, and other generally violent activity that seems to follow the console wherever it goes.
But it looks like there's another factor that may incite an uproar in PS3 fans on the continent. Sony has announced that the PAL-compatible systems will use "a new hardware specification" that focuses on "developing new games and entertainment features exclusively for PS3, truly taking advantage of this exciting technology…Rather than concentrate on PS2 backwards compatibility."
The result? The PS3 will be "compatible with a broad range of original PlayStation® (PS) titles and a limited range of PlayStation®2 (PS2) titles." Ouchy. Besides Europe, this version of the console is headed out to Africa, Australasia, and the Middle East. As if they didn't have enough problems on their hands already.