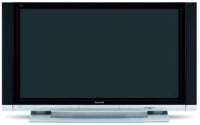 My best friend from college got married just last week. Instead of presents, he asked a number of his friends and family to shower him with Best Buy gift certificates so he and his lovely wife could buy the huge flatscreen television of their dreams, probably Panasonic's 50″ plasma, which is currently going for under $3500.
But after seeing Trusted Reviews's critique of Panasonic's 65″ plasma entry, the TH-65PV500B, I may have to advise that he save his pennies. The 65-incher boasts a native resolution of 1,366 x 768, compatible with both 1080i and 720p HD streams (but not, sadly, the holy grail of 1080p). Standard definition programming also looks a treat, due probably to Panasonic's image scaling technology. In addition, TR reports that "colours are driven off the screen with excellent vibrancy and superb subtlety," and blacks are "superbly dark." Indeed, when it comes to the TH-65PV500B, the word of the day seems to be "superb."
Where do I get one, you may ask? Right next to the bank you'll have to rob in order to afford the set's approximately $13,000 retail price. But if you're having second thoughts, I'll leave you with Trusted Reviews's verdict: "For the fact is that until you've seen a pure HD signal running on the 65PV500, you arguably haven't seen HD at all." What are you waiting for?
[via Engadget ]