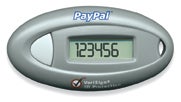 Are you of the security-conscious ilk? What I guess I mean is, when it comes to security: are you conscious ? No, that's not quite right either. Let's start over again.
We all know that it's important to take precautions when giving away our financial or personal information online. PayPal's cranking their own security up a notch by making available this nifty security key. Here's how it works: every 30 seconds, the key displays a different six number code on its LCD display. Enter that code when you login, along with your name and password, and afterwards that key expires—nobody else can use it. It's pretty much as good as security gets.
The key itself will cost you $5, but there's no additional charges after that. Let's just hope that the keys are a little less predictable than "123456" because that's totally the combination on my luggage.
[via Gizmodo ]