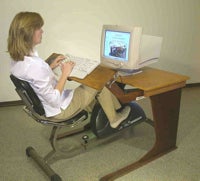 As I've explained, sunlight is a luxury down here in Gadgetbox HQ. Fresh air doubly so—the air scrubbers give the whole place a slightly noxious lemony scent. Exercise is mainly accomplished by a daily jog between the button which triggers the release of our daily food rations and the bin in which they appear—inconveniently located on opposite sides of the complex. I spend most of the days at a terminal, churning out the latest on technology and gadgets for an audience that I will never see.
Maybe I should get a Geek-a-Cycle in here. For one thing, it'd let me get exercise without having to leave the comfort of my cubicle. For another, it's more comfortable then jogging back and forth, especially with my bum knee (injured in an attempt to escape this subterranean hell). And, of course, a little creative wiring could make it so that my machine is powered by my constant pedaling, thus saving my captors employers more in electric bills. Think of all the benefits! The setup costs just $350, or $160 for the bike and $200 for the desk. You can also supplement it with a padded bike seat for $16 (geez, what do they use otherwise?) or a document stand for $20.
[via The Red Ferret ]
Note: When you purchase something after clicking links in our articles, we may earn a small commission. Read our affiliate link policy for more details.