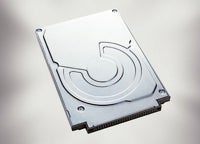 Mark August this year in your diaries and circle it in red, for that's the month Toshiba says it's going to start mass production of its 2.5in hard drive that uses perpendicular technology to cram 200GB into just two platters.
Decreasing the number of platters means the new drive is under a centimeter thick (9.5mm); plus, it has a world-record density of 277.1Mb (megabits) per square millimeter. Or, to put it in old money, that's 178.8Gb (gigabits) per square inch. Impressive stuff but how many AVIs of Lost is that per square foot?
(Via Toshiba )
[ J Mark Lytle, Digital World Tokyo ]
Dan's Thoughts: Always good to see more innovation in the storage market. Bringing perpendicular drives to the laptop is a great way of increasing storage capacity without increasing size.