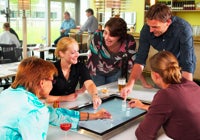 Everybody loves table displays. When I was at SIGGRAPH this year, it was one of the big trends: systems where placing physical objects on the table display would let you control the software, or multi-touch sensitive screens. Very cool stuff.
Philips has decided to leverage this technology for games, with what they're calling the Entertaible. It's a 30″ LCD display with multi-touch capability that'll let you gather round and enjoy a nice round of board games. Pieces can be placed on the table, and the software is smart enough to "know" what they are.
Now, I'm a board game fan (the most recent I've been introduced to was Carcassonne, which is soon coming to Xbox Live Arcade ), and I can see any number of ways this could really enhance the gaming experience. Still, there's something about the tactile feel of wood pieces in your hands.
[via Ubergizmo ]