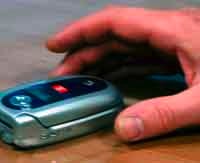 Should you be worried about the security of your mobile phone? It's certainly not a bad idea. Besides being pricey gadgets to replace, more and more phones contain an increasing amount of personal information that you may not want others to get their hands on (like, say, cameraphone pictures).
That's why a UK company, Remote XT, is developing a technology that's designed not only to erase your data, but to make stolen mobile phones impossible to resell. The technology works by installing software onto your phone that can be activated once you report your phone stolen.
Once activated, Remote XT will disable the phone, wipe all the phone's data, and issue a high-pitched tone that is supposedly loud enough "to distract a restaurant." I suppose that depends on the restaurant, but okay. The sound can be halted by removing the battery, but if you put the battery back in it starts up again. Remote XT also backs up your data once a day, so you can download it onto your new handset.
The article doesn't specify whether or not the theft system can then be disabled (if, for example, your phone hasn't been stolen), but if it can, this could also be a great way to find the phone that you've misplaced under your couch cushions.
[via Slashdot ]