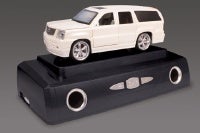 It's being nominated the worst iPod accessory ever, but the iCar by Corgi, but I kinda like this silly little model car/speaker thing. Is it cheesy? Yes. Is it chintzy? Probably.
However, it's still kinda cute. Besides, it's a Cadillac Escalade, which gives you the perfect excuse to say that in my favorite way. Ess ka la day. Say it a few times. Now you won't be able to say it normally.
Note: When you purchase something after clicking links in our articles, we may earn a small commission. Read our affiliate link policy for more details.