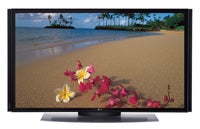 We bought my grandmother a small LCD screen for her kitchen for Christmas, a Sharp Aquos 13″. It's a pretty nice TV, marred only by the fact that it's still relying on analog over-the-air reception. My parents confided that they've been eyeing an update to their TV as well (a 27″ Sony CRT), but the eternal question reared its head: LCD or plasma?
Three of my buddies from college all own 50″ plasma screens now, which they appear to be pretty happy with. I'd always heard that plasma was superior to LCD at larger sizes, but this New York Times article has me wondering again. Reputedly, Panasonic has been pumping plasmas over LCDs for their large screens, focusing on better contrast, viewing angle, etc. Then again, the fact that profit margins on LCDs have been falling due to increased competition couldn't have anything to do with it, hm?
So, I ask you, Gadgetboxers, when it comes to the home television set—the center of your home theater—do you prefer plasma or LCD? And, more importantly, why ?
[via Slashdot ]