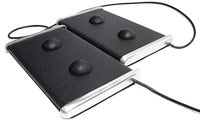 Between the keyboard, mouse, and trackpad, computer users often have their hands full. But you have two other perfectly good appendages sitting under that desk, just waiting to tap and stomp their way to usefulness. And now that there's the Fragpedal Deluxe, that's just what they can do.
The Fragpedal features two separate polycarbonate, aluminum, and non-skid rubber foot pedals, each with two tough rubber membrane-switch buttons. You can program the buttons to execute commands on click, click and release, or even double click. One suggested use is to set these babies up for your frag sessions, so that your shots won't go wild when you accidentally jerk the mouse with a too-hard click—then again, I'm sure there are perfectly peaceful alternative uses as well. Like, er, page turning. Sure.
The $70 Fragpedal Deluxe is compatible with Windows, Linux, and OS X, with no special drivers needed. It connects via USB and includes an optional configuration utility for programming the devices.
[via Uber-Review ]