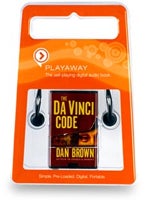 I saw these Playaway Audiobooks in a bookstore over the summer. My cousin, an elementary school librarian and avid audiobook listener, and I—technology guru extraordinaire—found them a bit ridiculous. On the face of it, having a dedicated player that simply plays the audiobook of your choice is nice and user-friendly for those who may not be hip to the jive of iPods and MP3s.
On the other hand, I think they're overpriced at $35-$50. Let's take one of my favorite author's latest books, Neil Gaiman's Anansi Boys , for example. The Playaway version costs $40; you can download the Audible version for $28; and the CD version is selling for $25 on Amazon. Not to mention that you can always check your local library for the possibility of listening for free .
Not to mention that if you buy more than one Playaway, you're cluttering up your house with a plethora of dedicated MP3 players that can do nothing but play one single audiobook. Oh well, suppose they're not for me.
[via Shiny Shiny ]