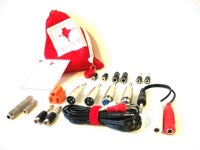 I'm not really a musician, despite five years of piano lessons, but there's something about a bag full of wires and adapters that gets my heart racing . I think I might be able to assemble something like this Musician's Emergency Adapter Kit out of stuff I have lying around, so I'm not sure it's worth $65, but if you are a professional music-maker, perhaps the peace of mind alone will justify the cost.
The kit contains adapters for just about any connectors you might run across, from your standard RCA plugs to minijacks to XLR. There's also a three plug power adapter, an LED light, and a snazzy red drawstring bag. Just think what MacGyver could do with this thing—and I'm talking the bag alone, not even with the crazy connectors. He could probably build a jetski.
If it's not too much to ask, I'd like one of these suckers for tech support or AV connectors. How about it?
[via Red Ferret Journal ]