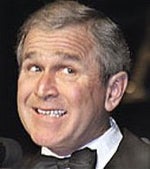 Be careful: the next time you engage in some heavy trash talking while playing Metroid Prime: Hunters online, you might be going up against the leader of the free world. To celebrate our president's 60th birthday, Nintendo sent the Commander-in-Chief a DS Lite and a copy of puzzle game Brain Age.
We thus present, as unironically as possible, this excerpt from Nintendo's press release:
It's obvious you don't have a lot of time to play games, which makes Brain Age such a great activity for you – just a few minutes a day with more than 15 daily training tests will help keep your mind sharp. Training tests include categories like math, reading and memorization. Try it for a few days and watch your score improve. Brain Age also comes with more than 100 sudoku puzzles – these could make your next long flight on Air Force One a bit more fun! (Perhaps copies of Brain Age for journalists joining you on your next flight would be a nice distraction!) Have fun exploring Brain Age with your Nintendo DS Lite and be sure to let us know your brain age!
It's times like this I remember that if I have nothing nice to say, I shouldn't say anything at all. So I'll leave it at this: Mr. President, if you'd like to play some Mario Kart some time, you certainly have an open invitation from the Gadgetbox crew.