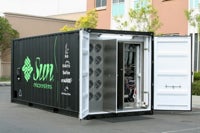 Sun is thinking inside the box with their new Project Blackbox. Sure, it looks like an ordinary shipping container, but inside you'll find a state-of-the-art modular, lights out data center. Simply hookup water, power, and network cables to the container, and you'll have a vast enterprise-level computing infrastructure at your fingertips.
A single Project Blackbox could accommodate 250 Sun Fire T1000 servers with the CoolThreads technology with 2000 cores and 8000 simultaneous threads. A single Project Blackbox could accommodate 250 x64-based servers with 1000 cores. A single Project Blackbox could provide as much as 1.5 petabytes of disk storage or 2 petabytes of energy-efficient tape storage. A single Project Blackbox could provide 7 terabytes of memory. A single Project Blackbox could handle up to 10,000 simultaneous desktop users. A single Project Blackbox currently has sufficient power and cooling to support 200 kilowatts of rackmounted equipment.
The shipping container form factor was the key, according to Sun executives:
"When everyone was racing to build the smallest rackmount servers, we asked a contrarian question: 'What is the biggest computer we could build?' We realized the answer had better not be bigger than a shipping container if we wanted to transport it easily," [Sun CTO Greg] Papadopoulos explained.
While there are a number of suggested uses for Project Blackbox, to me the most compelling by far is its use for global relief organizations. There are any number of organizations that could benefit from an easily transportable data center, though there is the problem of providing the necessary infrastructure (reliable power and network connections can be hard to come by in developing nations and conflict regions). Perhaps generator and satellite network connection options could be explored as well.
[Thanks, Jason]