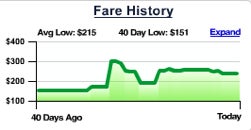 There was a time when I refused to fly by plane. That all changed when I moved to Scotland for a semester in college. Planes were pretty much the easiest (and cheapest) way to get back and forth on the continent. While I still prefer to drive, there are times when you simply can't beat flying for convenience.
However, if you've ever tried to find the cheapest way of getting from point A to point B, you know that it can be quite the hassle. Sure, there are plenty of sites that offer to compare ticket prices to a selected destination, but how do you know if those prices are liable to change next month, or next week for that matter?
A new site called Farecast uses simulation and modeling to predict whether or not an airplane fare you determine is likely to go up or down, thus helping you decide the cheapest point at which to buy a ticket. While it's only in closed beta right now (the only departure cities are Seattle and Boston), they are planning to expand their reach. It's certainly an innovative idea that could be quite useful if it turns out to be accurate.
I scored access to the beta and, along with it, a number of invites to pass along. If anybody would like one, just reply to the comments thread (make sure to put your email down) and I'll send one over.