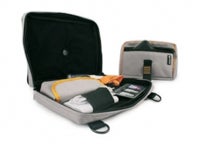 Okay, we'll admit it: we men, on occasion , have been known to envy the woman's purse. It's just so capacious . In our defense, our pants pretty much always have pockets, which is nice, but it can get kind of bulky at times. And with the increase in the number of gadgets we're likely to carry around, well, we need something with a little more room in the trunk. But it's not like we're going to buy a purse .
Proporta's Gadget Bag is not a purse. It's not a purse , okay? Or a handbag. It's strictly for gadgets. It's got padded compartments, see? And little pass-throughs for headphone cables. Elastic straps to keep cables nice and neat. All the things a gadget freak needs. It's very manly.
Should you wish to invest in this gadget pur—bag. Bag . Should you wish to invest in this gadget bag , it'll run you about $49, plus shipping, of course. Maybe they'll even make it alligator skin—oh god, I'm going to buy a purse.
[via CrunchGear ]