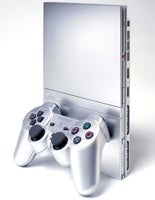 It's the game console that costs less than $150 and is the most popular console in the US, despite having been around since 2000. That's right, it's your friend and mine, the PS2. We noted when we reported on Sony's abysmal quarterly results that PS2 sales were fairly flat, but no growth doesn't mean no profits. And in a move to perhaps bolster those flagging profits a little further in the holiday quarter, Sony has released a silver edition of its venerable console.
The silver edition has been available in Europe and Japan for some time, but this is it's first trip to our home shores. Besides the console, the package includes one PS2 DUALSHOCK controller (glad to see the PS2 is keeping the rumble). All that for $129.
I have to say that releasing the slimline version of the PS2 several years ago was a smooth move on Sony's part. I just helped my girlfriend hook up her PS2—one of the original models—and it looks positively gargantuan next to her tiny little GameCube. Yes, that's right, my girlfriend owns more consoles than I do—hands off, gents.
[via Joystiq ]