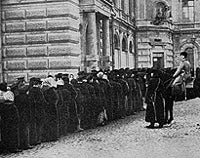 Does Sony have anyplace left to shoot themselves? By my count, they've taken off both feet, one arm, an ear, and their nose (to spite their face). Maybe you didn't think it was a big deal when they announced that an HDMI cable wouldn't ship with the $600 high-end PS3. Okay, sure. It's just a cable.
But remember that laser shortage we were talking about the other day? Looks like it hit the PS3 pretty hard. So hard, in fact, that they've announced that the PS3 is being delayed in every PAL region (that is Europe, Australia, the Middle East, Russia, and Africa) until spring of 2007. Somewhere, Nintendo and Microsoft are throwing a kegger the likes of which has never been seen before.
And then came the second wave of news. You thought a European delay was bad? North America and Japan will still be getting the console in November, as planned. Only North America will get 400,000 and Japan will get 100,000. For comparison, we'll remind you of the utter freaking madness that hit the US when the Xbox 360 launched with 1.5 million units. People were stockpiling canned food for fear of rioting.
Our only hope is that people decide not to buy a PS3. If you want one, well, please enjoy this soon-to-be familiar image of a Soviet era bread line.