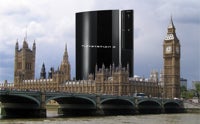 Despite a lackluster reception in the United States, Sony has forged ahead with plans to bring their latest and greatest game-console-and-next-generation-optical-player to European shores. No word on whether or not the PS3s will descend on the beaches of Normandy en masse, but it sure would make a hell of a publicity stunt.
Yes, yes. You want numbers: dates and prices. Word is that the shiny black monolith will hit the continent on March 23rd, with 1 million units of the 60GB model (the 20GB model will follow at a later date, but who really cares?). Thirty launch titles, divided between disc-based and network-based, will also make the trip.
And the price? A meager £425 (that's US$842, compared to the US $699 $599 for the same model in the states). 300,000 units will head directly to the UK, with the other 700,000 heading to the rest of Europe, though no word of a price in Euros. I'm guessing mucho . That's European for a lot .
Update: Missed the US price by a hundred. Then again, you'll likely pay over the retail price to snag one.