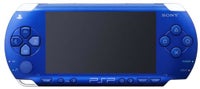 And you were there, and you were there… The PSP has perhaps not been doing as well perhaps as Sony would like it to. While some might suggest that Sony see to making the games and operation of the console more appealing, Sony sees it differently (and, after all, how could they do wrong? ). What's going to help the PSP? Different colors .
Some time ago, we brought you the skinny on a pink version of the handheld that was being released in Europe. Now, pink along with its brothers silver and blue, are making their way to Japanese shores. They'll run for ¥20,790 (or about $177). Will we see the colorful PlayStation Portables in the good old U.S. of A.? Only Sony knows.
Wait a sec…pink? Blue? Silver? If I'm not mistaken, those are the same colors in which you can buy a certain other handheld console . You know, one that's outselling the PSP three to one here in the US. Interesting.
[via Gizmodo ]