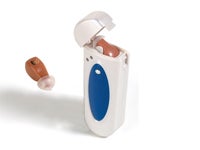 If you're looking for the latest in high-tech eavesdropping devices, there's the M7 Secret Spy Ear II. This little fellow is about the size of an earbud; it pops into your ear and supposedly allows you to listen to those whispering folks across that crowded restaurant, dispensing with pesky and obvious parabolic microphones and headphones. It's also rechargeable; just slip it back into its carrying case to juice it up.
Now, I'm not sure exactly how this works, other than it appears to contain a "ultra-sensitive microphone." Unless it's a bit more complicated than I'm thinking, it seems like it's just a hearing aid. Though if it really does enable you to hear people that far away, you probably want to make sure you don't sit to close to the waiters. Just in case they drop anything. A parabolic microphone might be pretty conspicuous, but people might also give a second look if they see you screaming in agony .
Best of all, it's 20% off, just costing you a piddling $80. Or you could, you know, not eavesdrop on people. It's rude.
[via Red Ferret Journal ]