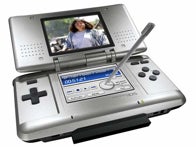 You know we're crazy keen on the Nintendo DS here (especially its forthcoming successor, the DS Lite ), but I've often thought that the device hadn't reached its full potential . A web browser, developed by Opera, is forthcoming for the portable gaming system, and in Japan Nintendo will be releasing a digital TV tuner. But what about those of us here in North America that covet video-playing functionality?
This thread over at MetaFilter suggests a few ways of transforming your DS into an iPod with video. They range from the simple and expensive ( the MAX Media Player for the DS, pictured), to the complex and mildly risky ( hacking your DS ). Many of the methods are limited in the types of format they can play; all require some form of adapter to get your video on the DS.
Is it worthwhile? If you're trying to decide between carrying around your iPod with video and your DS, perhaps. Otherwise, there's nothing wrong with different tools for different tasks.