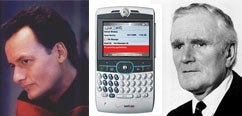 This will long be remembered as a great day for the technological empire. It has seen the launch of the DS Lite, and it will now see the launch of the Motorola Q on Verizon's network (we'll let you figure out which of the people or items pictured at right is the Motorola version). We mentioned the Q last week, where we discussed both its benefits and drawbacks.
The Q is now available from Verizon for $199, if you're eligible for your "New Every Two" credit (where you get $100 credit towards a new phone after two years of service, with a new two year contract), or you sign up for a new 2 year plan. If you just want a 1 year contract, you'll have to pay the mortal price of $350.
Don't forget that the Q's smartphone features are really only useful when coupled with one of Verizon's data plans, which run at least $80 a month in addition to the monthly voice service charge. I think I'll be sticking with my E815 for now, but someday. Someday .
[via Engadget ]