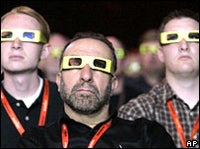 You know what's missing from today's television? Depth. Depth of stories, depth of characters, depth of interest, but most of all: depth of image . I mean, come on, two-dimensional images are oh-so-20th-century. We live in the future now, or hadn't you heard? I want my 3D TV.
Well, according to one professor in Turkey, 3D TV could be a mere three years away.
Professor Onural, who is based at Bilkent University, Turkey, said: "Lower-end technologies, such as stereoscopic 3D (a method of displaying an image that gives the impression of depth) will be commonplace in homes and cinemas in about three years."
Yeah, that sounds a little too good to be true to me too. Still, when I was attending the SIGGRAPH convention in Boston this year, 3D was one of the big trends I saw going around. But pretty much all of them still required the use of special glasses, which is one of the factors that's hampered the adoption of the technology.
Still, way cooler than TV with depth is holographic TV, which we could be seeing in 10 years. Let me paint a picture for you:
…Prof Onural said holographic television was at least 10 years away.

He said: "We do think holographic 3D TV is feasible, but the technology is not in place yet.

"If you ask my opinion, it will take another 10 years to get there, but some say it will take 14 to 20 years."

However, he said that it would offer the "ultimate viewing experience".

"For example, take a football game. Viewers would be able to look at a TV that will be like a coffee table and see small-scale real football players made up from light running around on that table."
Now
that
is awesome, and appropriately futurey.
[via Lifehacker ]