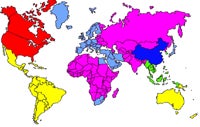 It's not your fault, region codes. It's the people who make you who are the real problem. And they're not about to let you go away anytime soon.
Reports indicate that although region coding of next generation optical formats will continue, Blu-Ray may switch up the geographic designations a bit. For instance, Japan will now share a region with the US, instead of before, when it shared a region with Europe, the Middle East, Egypt, Greenland and South Africa (I guess there's not much else to do in Greenland). That should be good news for fans of Japanese cinema and anime, since they won't have to hack their DVD players to play imported Blu-Ray discs.
Even more interesting, the HD DVD makers are waiting for Blu-Ray to finalize their geographic encoding so they can use the same one "to avoid confusion among consumers." You know what else would avoid confusion among consumers? A non-region encoded single next gen optical format. That would make me so happy that I would get up and dance. Really.