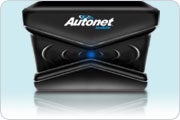 I've had occasion to log on to the Internet from a moving vehicle (not while driving, of course). It's frustrating to be on a six hour drive and unable to get any work done, especially when deadlines are imminent and Internet access is a must. On those occasions, I've turned to my trusty cell phone, which can work as a Bluetooth modem, but it comes at the cost of racking up the minutes.
Car rental company Avis is taking an alternate approach, including a device in some of their cars that will turn each vehicle into the equivalent of a Wi-Fi hotspot. On the hardware end, it consists of a bridge device that will use 3G phone signals to communicate with the Internet, which in the cars will be recognized as Wi-Fi.
The In-Car Router is designed by startup Autonet; it plugs into the car's cigarette lighter, and will reportedly provide a signal up to 100 feet away in around 95% of the country (so if you carpool effectively, you could even share the connection with your friends in the next car). One certainly hopes it won't entice drivers to try and browse while behind the wheel.
[via Slashdot ]