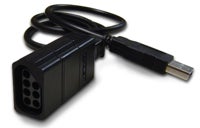 So you snagged yourself a Wii and you're getting into the swing of downloading vintage games to play on the Virtual Console. Some of them you can play using the Wiimote, and others you'll need to spend $20 on the Classic Controller. But wouldn't it be great to use those old NES/SNES controllers you have lying around? For a truly nostalgic turn?
RetroZone to the rescue. For $19 you can buy from them an adapter that plugs into the Wii's GameCube port (although the image above looks pretty clearly to feature a USB plug) and lets you connect one of those super hip NES or SNES controllers. Yes, we know the Wii's Classic Controller only costs $20, but it's hardly the same. The NES adapter goes on sale in January, with the SNES adapter following later in the quarter.
[via Joystiq ]
When you purchase through links in our articles, we may earn a small commission. This doesn't affect our editorial independence.