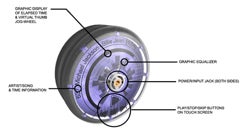 This may be the most brilliant idea in music players since the invention of the iPod. You've probably seen those camping flashlights and radios that you can recharge by hand cranking for a few minutes. The Regen MP3 player brings a similar idea to MP3 players, except instead of using a hand crank, you harness the power of the yo-yo. Running low? A few spins of Around the World and you're good to rock out. Bluetooth headphones insure that you don't accidentally tangle your cord up while Walking the Dog.
Now, I love yo-yos. I have a handful of them in my apartment—I'm one of those people who picks things up and plays with them while thinking and yo-yos are perfect. Right now my desk has a Macworld light-up yo-yo that I snagged at Macworld SF this year.
Sadly, in a move no doubt designed to break the last remaining portion of my will, the Regen is just a concept at the moment and it may very well never make it to production. But if it does, I can assure you that I'll be among the very first on the list, despite the two iPods I already own.
[via SCI-FI Tech ]