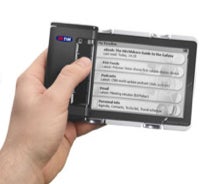 Man, the future is almost here (isn't that always the way? How come it never gets here?). I'm talking rollable, foldable displays. Admit it, we've been jonesing for these things since we saw those sweet communicators on Earth: Final Conflict (if you know what I'm talking about, congratulations: you've just earned serious geek cred, which is redeemable for a swat on the head).
Telecom Italia and Polymer Vision have designed a cell phone with a foldable display, the Cellular-Book. The phone will surface some time this year, though only in Italy to begin with. The polymer-based display is obviously the high point of the device; it can extend up to five inches, display up to 16 grays (sorry, video fans), and its high contrast and high reflectivity mean that it's easily visible even in sunlight.
The Cellular-Book goes on display next week at the 3GSM conference in Barcelona. No firm price or availability have been announced yet. And major props to the concept designers that included "The Hitchhiker's Guide to the Galaxy" in the graphic above ( larger version here ).
[via Uber-Review ]