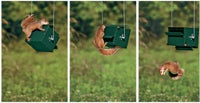 There's nothing more pleasant than waking up on a beautiful sunny day, pulling your curtain aside, and watching bluebirds alight on your backyard bird feeder, chirping merrily to themselves.
But that sylvan paradise is often spoiled by the vermin known as Sciurus carolinensis , or the Eastern Gray Squirrel. These cheeky little rodents like nothing more than to ruin your piece of utopian bliss by stealing food from your bird feeder.
If this sounds like you, then perhaps the Rollerfeeder can help. Ingeniously designed to the weight of small birds, the Rollerfeeder rejects heavier animals by spinning around, preventing squirrels from getting a firm grip. Now you can laugh diabolically jovially as the little furry rats try to steal the feed in vain . Remember, it's not cruelty—it's just plain good fun.
[via Gizmodo ]