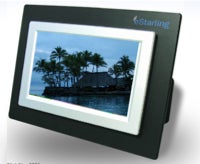 LCD picture frames seem to pretty much a dime a dozen. So when one comes along with an interesting twist, I'm all ears. The eStarling frame is Wi-Fi-enabled (802.11b/g), boasting the ability to subscribe to an RSS feed on Flickr and display pictures from it.
While this is a pretty slick idea, it's pretty much only a matter of time before someone takes advantage of the situation to start popping inappropriate pictures into your photostream. Even more dangerous, the eStarling has a dedicated email address to which you can send images that it will put into its rotation. I don't know about you, but I get a fair amount of spam featuring images that I wouldn't want to pop up in the middle of a family dinner. Better make sure you've got good filtering on that address.
The eStarling runs for $250 and is available from ThinkGeek. It requires Windows for the initial setup, but is standalone after that.
[via Gizmodo ]