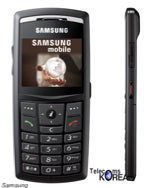 Another day, another "world's somethingest something." Today, we have Samsung and the world's thinnest supermodel cellphone, the SGH-X820 Ultra Slim Phone (sadly, attempts to slim down the name appear to have failed miserably). How thin is it, Dan? I'm glad you asked, mysterious person who sounds a lot like me; it's a barely-there 6.9mm, the same thickness as an iPod nano. So thin you can shave with it . Well, not yet, but at this point it's only a matter of time before we integrate razor capability into our, um, RAZRs.
But the SGH-X820 is far from slim on features (ha HA!). It packs in a 2 megapixel camera, MP3 playback, Bluetooth, and even a TV out, for those myriad occasions you want to, um, hook your cellphone up to a TV. Yeah. Of course, it's not available in the US yet , but you can bet your cotton candy pink handset Samsung wants to get it over here.
Stay tuned for tomorrow when we continue our "world's somethingest something" coverage with the world's beefiest beef jerky. Only on Gadgetbox, my friends.
[via Engadget ]