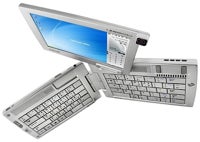 When I think about what the future of computing might look like, I have to confess that Samsung's new SPH-P9000 gets somewhat closer than anything else I've seen on the market lately. Not only is it chock full of features like a 1GHz processor, 256MB of RAM, a 30GB hard drive, EVDO connectivity, WiMax, a 1.3 megapixel camera, and a 5″ display, but it's got that whole nifty folding design and weighs a mere 580g (about 1.3lbs).
The device fulfills two major criteria for truly productive mobile working: a full version of Windows XP and a QWERTY keyboard. I do have a few questions not answered by Sammy's press release. For example, what's the battery life on this thing life? The small form-factor must mean a smaller battery, but cramming in all this tech would seem to suggest a pretty heavy power drain unless they're using some crazy power optimization jazz ( Engadget says that it'll ship with both an internal and external "extended-life" battery). I'm also wondering about the durability of this sucker. With so much folding, swiveling action going on, how well is this going to hold up under repeated stress?
Still, it's good to see companies pushing forward with innovation. The introduction of this device now means that Apple ought to be ready perfect the design within a few years, right?
[via SCI FI Tech ]