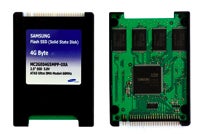 Flash (or solid state) memory has become ubiquitous in digital devices: cameras, music players, video players, keychain drives. About the last place that it hasn't hit are traditional PCs. But Samsung and Microsoft are about to make that happen.
We've previously mentioned Samsung's plans to release a hybrid flash/magnetic hard drive as well as their intention to release laptops boasting flash memory hard drives. Now we can shed a little more light on what flash memory might be doing in the computer.
Samsung has announced a 4GB flash memory drive in conventional 2.5″ and 1.8″ sizes for PCs; it'll sell for under $200. Since 4GB is a little small to be used for storing all your data (you can't even install an operating system in 4GB nowadays), the devices will be utilized by a Windows Vista feature called "Ready Boost," which will essentially cache frequently read data on the flash drive, so the hard drive doesn't have to constantly spin up. Think of it as a middle ground between your RAM and your hard drive. A cool idea, and one that I'm looking forward to. Too bad it's only in Windows at the moment.